The Bug Out Locations (BOL)
Your objective for the Bug Out Location (BOL) should be based on how you wish to hunker down. (1) If you expect trouble then you want a BOL with an open area (kill zone) while holding the high ground and a escape route close to cover (ex. tree line). (2) The other alternative is a BOL in cover where hopefully you will be out of sight and out of mind. Generally one deep in a wooded location with running water and an escape route should the need arise.


Bug Out Location 1 (East)
The eastward Bug Out Location is located on top of a hill with an open expanse of ground (kill zone) There is a perched water table providing easy access to ground water (even with the hand pump). To the southwest and west is the treeline. The walls are steelplate lined around the base for additional protection against incoming.
Bug Out Location 2 (West)

Making the necessary preparations to weather the storm - be it economic, natural disaster or national emergency
I got to the "Bug Out" cabin west of Yellowstone this weekend to clean up brush, clean house, stash more freeze-dried food, ammunition and firearms, and put away a water filtration unit. The propane tank has been filled as expected and more firewood has been stacked.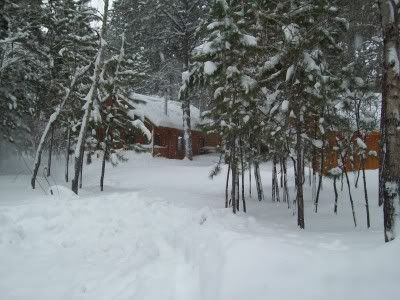 A year-round creek with trout (rainbow and browns) borders the property on one side for a constant water source. Not as open as the Bladesville-2 cabin with a several-hundred yard "kill zone" but definitely more hidden and not as accessable either.
Fortunately I have access to additional alternative sites in Utah and Nevada with caches scattered throughout.
Food Storage
Freeze-dried food, stored water and Berkey water filtration units with spare filters.
Get a minimum of four to five years supply of nonperishable food to start.
Food From The Land


Hunting skills should be developed - the outdoors can be your supermarket
Additional Preps - Toiletries (Building on Storage)
Another set of important items to keep on hand include a decent supply of toilet paper, deodorant, toothpaste, razor blades and shaving cream among other things. Not to mention a decent first aid kit and meds.
Not everything must be expensive but the wife and girl demand "soft and plush" toilet paper so got the pricier packs at Costco. Hell, I was just gonna get some old phone books and rip out a page as needed, but that didn't fly with the wimmin-folk. That said, the cheap shaving cream I got at Wally World. While at Dollar Tree I got shampoo, toothpaste, tooth brushes, mouthwash, dental floss, disposable razors, hand sanitizer, soap, various chemicals, detergent, bleach, scrub pads, etc Even get my reading glasses and sun glasses at Dollar Tree. Even get cheap anti-biotics and topical anesthetics at the pet shop and veterinary supply (same as human drugs but no prescription needed).
Still Prepping
Loaded up a few jugs of laundry soap and a few cases of dish soap to the cabin:
Still prepping ...
- Black Blade
First Aid Kit


A first aid kit is a must. 
I keep a couple First Aid Kits (one at home and another in the truck). The kit includes various bandages, gauzes, splits, hemostats, latex gloves, anti-biotic creams, burn cream, thermometer, a stethoscope with blood pressure cuff, SAM splints, tweezers, hand sanitizer, pain meds, dextromorphin, lidocaine, Cipro (powder), etc. I may upgrade with an expanded trauma kit eventually as conditions change.
In a radiation emergency it is good to keep some Potassium Iodide on hand to protect against thyroid cancer from radiation. It won't protect against much else except perhaps some toxic heavy metal contamination but you never can tell when a potential radiation threat materializes. I keep two vials of Potassium Iodide solution with eye droppers (~20 mg/drop). To block thyroid gland to prevent uptake of radioactive iodine contaminating food and water, take 4 drops of a saturated solution daily. (Fill a brown dropper bottle about 60% full with crystals, then add water until bottle is 90% full. Shake. Check to be sure that some crystals remain out of solution. See Nuclear War Survival Skills p. 114.)
It's also a good idea to have a reference guide on hand as well. One also may want to have a Physicians Desk Reference as well. Some mention that getting a download or hard copy of "When There's No Doctor" as an additional source.
Transportation

That time again - had to retire the old Dodge and take advantage of the advertised GMC "employee special" sale.
Then there's the ever reliable EMP-Proof transportation (Right: Gary Fisher - Big Sur, Left: Specialized 29er) limited only by winter weather conditions.
Precious Metals
Buy on the dips...
As the Greater Depression worsens, the best investment is physical Silver and Gold on hand followed by paper Silver and Gold. Obviously the real deal is preferable as the economy crashes down all around us while banks and investment houses close their doors for special "bank holidays" depriving investors access to their presumed wealth.
I have primarily one ounce Silver Rounds and Silver American Eagles that will be handy for barter and wealth transfer.


  

I hold physical Gold Rounds, Wafers, Bars, American Liberties, Foreign Coin and "Official" one ounce Gold (Maple Leafs, Kangaroos, Krugerrands, etc.) for wealth transfer - wealth preservation, portability and easy access when all else is inaccessible.  

Caching

Sometimes for security reasons we must hide our wealth and survival items or simply set up a series of caches to escape and evade the dark forces what ever they may be. A series of caches of survival items along several potential paths of escape is a good idea.




Personally I prefer to make my own out of PVC pipe but the costs savings are not necessarily that great overall. Besides, commercially made purchased cache tubes may leave an unwanted "paper trail".

Self and Home Defense

Another consideration is self defense. I have trained in the martial arts and spar with friends on occasion. It is also important that people exercise their Second Amendment rights as a means for basic survival. I usually carry a reliable handgun and sometimes a backup gun as well depending on the situation. I usually carry a Glock 19 and a German Makarov or Polish P-64 as my BUG. This is my typical Every Day Carry (EDC):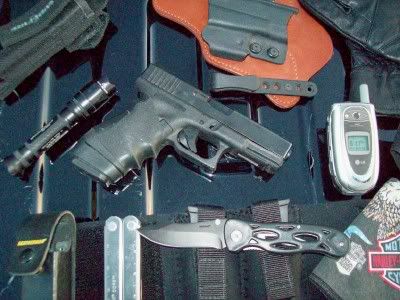 There are some things that are naturally carried and and everything must be utilized in an emergency, Here is what I usually have on me at any given time:

1. Surefire E2D Defender flashlight
2. Leatherman Tool
3. Glock 19 in MTAC holster
4. Extra magazines in ankle carrier
5. Pocket Knife
6. Leather Driving Gloves (depending on weather)
7. Keys (two sets - not shown)
8. Cell Phone (currecntly have a BlackBerry)
9. Bandana

In the home it is equally important that firearms and an adequate supply of ammo be readily available.
Bug Out Location 1:

Bug Out Location 2:


It is also recommended to have a few rounds of ammo and firearms accessories on hand for self defense and hunting purposes.


A few handguns




A varied selection of firearms (pistols, shotguns and rifles) are a must for all possibilities. It may be advisable to keep several firearms in various locations in caches and safe houses following the "one is none, two is one" rule. 
Bug Out Location 3:

A third Gun and Ammo Room started at BOL-3 is completed and ready to stock:

First a trip to gather supplies.




Contruction Begins:


  

Safe is loaded with a few rifles and handguns and just starting to fill the shelves with ammo and gear:


  

Added a few cases/crates of ammo: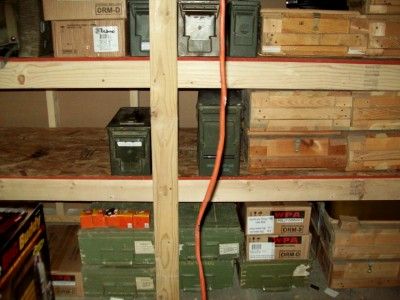 Bug Out Location 4:
I put in another ammo room this week. Added new shelves and stacked and organized cases and crates of milsurp ammo. This is just one of several ammo dumps I have dispersed around different locations. Should have a few years of shooting and hunting fun ahead.   
Given the ever changing politics it's good to spread supplies around various locations and even cache more (I use burial tubes and burial vaults). Never ever keep all your eggs in one basket.