Every Day Carry (EDC)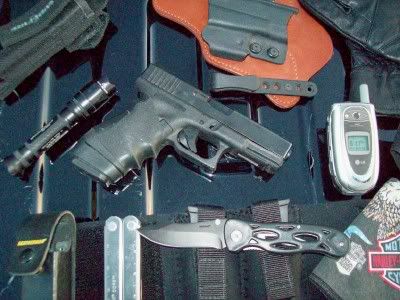 There are some things that are naturally carried and and everything must be utilized in an emergency, Here is what I usually have on me at any given time:
1. Surefire E2D Defender flashlight
2. Leatherman Tool
3. Glock 19 in MTAC holster
4. Extra magazines in ankle carrier
5. Pocket Knife
6. Leather Driving Gloves (depending on weather)
7. Keys (two sets - not shown)
8. Cell Phone
9. Bandana
New EDC Every Day Carry:


I still carry the G19 occasionally but now opt for the lighter East german Makarov.
1. Sun Glasses (polarized)
2. Leatherman
3. Spring-Assisted Knife
4. Redline Flashlight
5. Pen
6. Extra Magazine (9x18)
7. East German Makarov
8. Don Hume IWB Holster
9. Dorid Turbo Phone (not shown)
Get Home Bag (GHB)

While on the road or in the field one should keep a "Get Home Bag" (GHB) in the vehicle or close nearby with the necessary supplies to make it back home to relative safety. The GHB is different from the "Bug Out Bag" (BOB) in that the BOB has more gear for travel from home to a designated "Bug Out Location" (BOL) where it is possible to sit out most any major event (be it natural or man made disaster). In my truck I keep several items such as the usual items such as a couple days of water, food, a change of clothes, gloves, rope, coat, boots, glow sticks, flashlight, a couple handguns, a carbine and some ammo.
I can't count on being in or near the vehicle all the time so I carry a Polish P-64 in a Nemesis pocket holster in my left front pocket and a Glock 19 in a MTAC holster with two extra magazines in an ankle holster.
Front view
Back View
The GHB is a Maxpedition Jumbo Versamax (right handed) that is slung across the shoulders resting on the right hip.
The GHB inventory from top to bottom and right to left:
1. Water bottle with filter
2. Cell phone
3. Multi-tool
4. Garmin GPS
5. Battery packs (AA and AAA)
6. Large ammo box (100 rounds 7.62x25mm)
7. Small ammo box (50 rounds 9x19mm Luger)
8. Small ammo box (50 rounds 9x18mm Makarov)
9. Brunton compass
10. Digital camera
11. SAS survival guide
12. Passports
13. Energy bars
14. Tokarev TT-33 (Romanian)
15. Lighter and UBS flash drive (scanned documents)
16. Uncle Mike's holster
17. Tokarev magazines (5)
18. Surefire Defender flashlight
19. Nikon Binoculars (10x42mm)
Upon reaching my destination I have to assess any damage and my situation to determine whether my position is defensible under the circumstances. If I have to abandon my homestead then I will set out carrying my both my "Get Home Bag" GHB and take some additional gear set aside in my "Bug Out Bag" (BOB).
- Black Blade